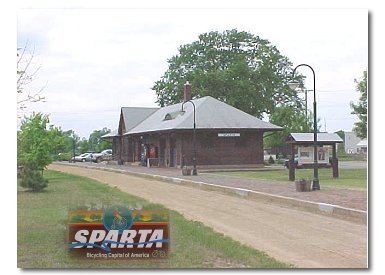 Sparta, the "Bicycling Capital of America," is located at the east end of the La Crosse River State Trail. Sparta offers numerous services a rider may require including motels, bed & breakfasts, camping facilities, bike rentals and repair, restaurants, service stations, grocery stores, laundromats, churches and excellent medical facilities.
Sparta takes pride in its 18-hole Municipal Golf Course which has the reputation of being one of the finest in the state. Memorial Park, located on the north shore of Perch Lake, contains five picnic shelters, a playground, four lighted softball diamonds, a concession stand, an Olympic size swimming pool with wading pool, tennis counts, soccer fields, lighted ice skating and hockey rinks complete with warming houses and a football field. You may also utilize the 12-lane state-of-the art bowling, banquet and family fun center.
Cross Country skiing and snowmobiling attract many visitors during our winter months. Hunting, fishing and canoeing enthusiasts enjoy the beauty of Monroe County year round.
HOTEL & MOTEL
LOCATION
PHONE
THE COUNTRY INN
737 Avon Rd
Sparta, WI 54656


I-90

608-269-3110
800-456-4000
CABOOSE CABINS
1102 S. Water St.
Sparta, WI 54656


South Water St. (1 block from trail)

608-269-0573 or 608-269-0444

BEST NIGHT'S INN
303 W. Wisconsin St.
Sparta, WI 54656


Hwy 16

608-269-3066
800-201-0234

SPARTAN MOTEL
1900 W. Wisconsin St.
Sparta, WI 54656


Hwy 16

608-269-2770

SUPER 8 MOTEL
716 Avon Road
Sparta, WI 54656


Hwt 27 & I-90

608-269-8489
800-800-8000

BEST WESTERN SPARTA TRAIL LODGE
4445 Theater Road
Sparta, WI 54656


Hwy 16 & I-90

608-269-2664

SCOTTISH INNS
509 So. Water St.
Sparta, WI 54656


Hwy 16

608-269-3138

CAMPGROUNDS
LOCATION
PHONE
PRIMITIVE DNR CAMPGROUND
WALK-IN ONLY, NO VEHICLES
CLICK HERE for printable Campground Map Trailhead Elroy-Sparta Trail
Sparta, WI 54656


Trailhead

608-337-4775

PINE VIEW RECREATION AREA
Fort McCoy
Sparta, WI 54656


 

608-388-3517

LEON VALLEY CAMPGROUND
9050 Jancing Ave.
Sparta, WI 54656


 

608-269-6400