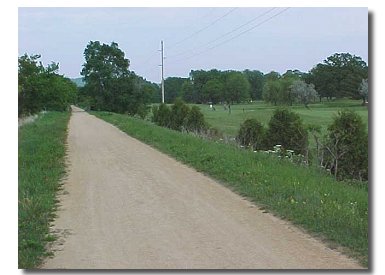 The community of Onalaska is built on a ridge over looking the scenic Mississippi River Valley. Onalaska makes the most of its proximity to Lake Onalaska and the Black River. The Lake Onalaska spillway is a favorite fishing spot for local residents and visitors alike.
During the great Ice Age, glaciers flowed around the Coulee Region instead of over it, creating what is called a "'driftless area". We can now enjoy the beauty of the Onalaska countryside with its steep, rocky bluffs, winding valleys, rolling hills and beautiful Lake Onalaska.
Onalaska is stategically located in this truly beautiful area. It is surrounded to the east and north by many heavily wooded bluffs and scenic coulees and with La Crosse adjacent to the southern part of the city. Looking toward the west you see Lake Onalaska, with several small islands, merging with the Mississippi.
Onalaska has much more to offer both the visitor and resident. There are so many things to do, no matter your interest or time of the year. Choose from: hunting, fishing, bicycling, hiking, riding, golfing, picnicking, tennis, swimming, camping, car races in summer, concerts, theater, big name entertainment, fine dining or browsing through a large regional mall and many other shopping centers all here within ten miles of Onalaska.
HOTEL & MOTEL
LOCATION
PHONE
STEVERMER'S MOTOR LODGE
N3080 Hwy 16
La Crosse, WI 54601


Hwy 16

608-782-0297

COMFORT INN
1223 Crossing Meadows Dr
Onalaska, WI 54650


I-90

608-781-7500
800-228-5150

HOLIDAY INN EXPRESS
9409 Hwy 16
Onalaska, WI 54650


Hwy 16

608-783-6555
800-411-3712

COZY CORNER COTTAGES
W8071 CTH ZB
Onalaska, WI 54650


CTH ZB

608-781-3792

ONALASKA INN
651 2nd Ave S
Onalaska, WI 54650


Hwy 35

608-783-2270
888-359-2619

LAKE MOTEL
926 2nd Ave S
Onalaska, WI 54650


Hwy 35

608-783-3348

MICROTEL INN
3240 N Kinney Coulee
Onalaska, WI 54650


I-90 & Hwy 16

608-783-0833
888-818-2359

BAYMONT MOTEL
5377 N Kinney Coulee Rd
Onalaska, WI 54650


I-90 & Hwy 16

608-783-7191
877-392-7950

SHADOW RUN LODGE
710 2nd Ave N
Onalaska, WI 54650


Hwy 35

608-783-0020
800-657-4749

HAMPTON INN
308 Hampton Ct
Onalaska, WI 54650


I-90 & Hwy 16

608-779-5000
800-426-7866

STONEY CREEK INN
3060 So. Kinney Coulee Road
Onalaska, WI 54650


I-90 & Hwy 16

608-781-3060
800-659-2220

BED & BREAKFAST
LOCATION
PHONE
CHATEAU LA CROSSE
410 Cass St
La Crosse, WI 54601


IN TOWN

608-796-1090
800-442-7969

LUMBER BARON INN
421 2nd Ave N
Onalaska, WI 54650


Hwy 35 N

608-781-8938

RAINBOW RIDGE FARMS
N5732 Hauser Rd
Onalaska, WI 54650


 

608-783-8181

CAMPGROUNDS
LOCATION
PHONE
GOOSE ISLAND CAMPGROUND
W6488 County Road GI
Stoddard, WI 54658


HWY 35 S

(608) 788-7018

BLUEBIRD CAMPGROUND
N2833 Smith Valley Rd
La Crosse, WI 54601


COUNTY B

(608) 781-2267

PETTIBONE CAMPGROUND
333 Park Plz Dr
La Crosse, WI 54601


HWY 14-61

(608) 782-5858
BUSINESS NAME

BUSINESS
TYPE

PHONE

BUZZ'S BICYCLE SHOP
800 Rose St
La Crosse, WI 54601

Bike Rental & Repair

608-785-2737

KWIK TRIP STORES
9421 Hwy 16
Onalaska, WI 54650


Groceries

608-779-9364